The Best Custom Made Sound Shield for Generators, Motors, Compressors & Pumps. 100% Guaranteed to fit your engine or pump and to substantially reduce unwanted noise.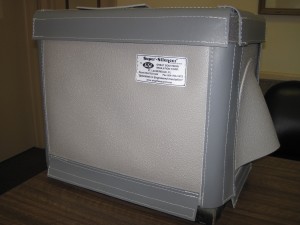 The Super-Silencer is a flexible, flame-resistant noise suppressor. It is a composite of fiberglass batting faced with a tough, reinforced quilted vinyl film-laminated to a vinyl noise barrier. The quilting of the fiberglass provides a stable encasement of fibers while retaining its excellent absorbing characteristics. This combination of materials forms a unique noise attenuator exceeding mass law performance. The construction of this product provides a permanent, durable, tear-resistant material.
The Super-Silencer is recommended for use as a generator sound insulator for water-cooled diesel and gas generators. Versatility in design can provide effective sound attenuation on virtually any generator configuration. A Super-Silencer blanket curtain can also be fabricated with grommets for hanging. The blanket can be cut for easy installation to conform to fixed enclosures.
Features of Our Patented Soundproof Insulation for Generators, Motors, Compressors and Pumps
100% Guaranteed perfect custom fit
Significant sound reduction (as efficient as most hard covers)
Most economical solution for generator, motor, compressor, and pump soundproofing
Durable, long lasting materials
Can be installed without having to move or lift the equipment
Easy do it yourself installation
100% flexibility for 100% serviceability
Guaranteed to fit your equipment
Five-sided removable panels
No metal parts to break or rust
Seals tightly closed with Velcro
Protects motors and electrical connections from water damage
UL rated fabric repels water, fuels, oil and dirt (per UL-181)
Wipes clean with mineral spirits or soap and water
Lightweight – approximately 60 pounds
Sturdy tubular frame slips together with ease
Assembles and disassembles in minutes
No exposed raw fiberglass to irritate skin
Provides service access for water fill and oil check
Provides attractive appearance to generator
Cover can be folded compactly for ease of shipping and storage
HOW TO GET YOUR OWN CUSTOM SOUND SHIELD
1) Contact us for a design template of your brand and model generator, motor, compressor and pump
2) Compare the design template to your installation and make any modifications if necessary
3) Return modified template to GSI for review
4) Receive your custom quote from GSI
Typical Frame Design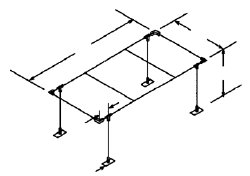 Template Design Information
In particular please locate the exhaust, water, fuel and electric lines. Also check to see if the location of the water fill and oil check is OK. There should be a vent for the generator to breathe air in and an exhaust vent as well. If you are having an exhaust fan (115-volt AC) mounted in the cover please check to see that the location of this fan will not be obstructed. It is important to note that in order for the sound shield to be effective the generator 'must have a solid base beneath it. The drip pan alone is not sufficient as it tends to act much like a drum head projecting sound downward. The aluminum frame typically mounts to the plywood base under the generator. Check to see if a standard frame with four stations will work. Otherwise, please indicate what the design of the frame will need to be. It is desirable when possible to first install the framework and then to do your design drawing. If you would like to proceed in this manner let us know so that we can make arrangements to forward a frame on to you. Please advise us as to the overall dimensions the frame needs to be so that we can preassemble it. When possible it is also desirable to add velcro flaps attaching the bottom edge of the sound shield to the mounting surface below the generator. This will increase noise reduction, as it will seal off any sound leaking out of the bottom edges. If there is room for these flaps and you want them on the sound shield please indicate if our standard 2″ flap will work or if some other size is required.
There is a Double Barrier option available where we add an extra layer of 1 lb Barrier to all the panels. This option maximizes the sound proofing. It adds only an additional 1/8″ to total panel thickness. Please let us know if you want to add this option to your sound shield.
If you have any questions about our Soundproof Insulation Solution for all generators, the Super Silencer, contact us today.